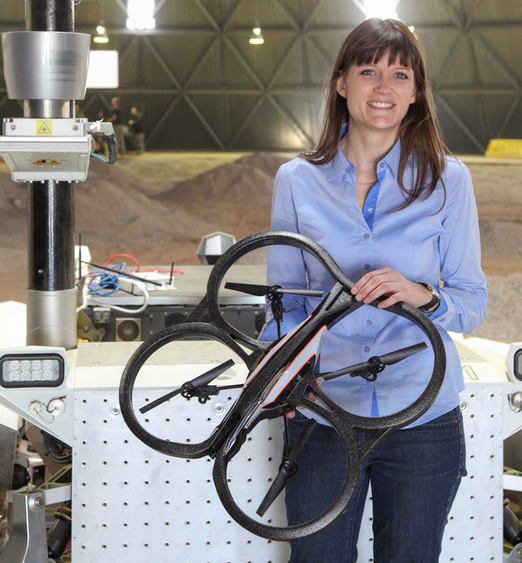 Short Bio
Angela Schoellig is an Associate Professor at the 
University of Toronto Institute for Aerospace Studies
 and a Faculty Member of the 
Vector Institute
 for Artificial Intelligence. She holds a 
Canada Research Chair (Tier 2) in Machine Learning for Robotics and Control
and a 
Canada CIFAR Chair in Artificial Intelligence
. She is a principal investigator of the 
NSERC Canadian Robotics Network
 and the University's 
Robotics Institute
. She conducts research at the intersection of robotics, controls, and machine learning. Her goal is to enhance the performance, safety, and autonomy of robots by enabling them to learn from past experiments and from each other. She is a recipient of a
Alexander von Humboldt Professorship
 (2021), the Robotics: Science and Systems 
Early Career Spotlight Award
(2019), a 
Sloan Research Fellowship
 (2017), and an Ontario Early Researcher Award (2017). She is one of 
MIT Technology Review's Innovators Under 35
 (2017), a Canada Science Leadership Program Fellow (2014), and one of Robohub's 
"
25 women in robotics you need to know about (2013)
"
. Her team won the North-American
SAE AutoDrive Challenge
 four times (2018-21) sponsored by General Motors.
Her PhD at ETH Zurich (2013) was awarded the ETH Medal and the Dimitris N. Chorafas Foundation Award. She holds both an M.Sc. in Engineering Cybernetics from the University of Stuttgart (2008) and an M.Sc. in Engineering Science and Mechanics from the Georgia Institute of Technology (2007).
Robotics
Control Theory
Machine Learning
Dynamic Systems
Quadrotors
Self-Driving Vehicles
 
Download my 

full CV and 

head-shot image.
Publications
My list of publications is available
here
and on 
Google Scholar.
Selected Awards and Honors
MIT Technology Review's 35 Innovators Under 35 (Technology Review article, University of Toronto news, CBC interview), 2017.
MIT Enabling Society Tech Competition First Prize, 2015.
$1M Drones For Good Competition Finalist, 2015.

IEEE Control Systems Society (CSS) Video Clip Contest Finalist (with this video), 2014.
Best Robotics Paper Award at the Conference on Computer and Robot Vision (CRV) (with this paper), 2014.
Dimitris N. Chorafas Foundation Prize (as one of 35 worldwide, for my PhD thesis), 2013.
ETH Medal (awarded to the top 8% of Ph.D. dissertations at ETH Zurich, for my PhD thesis), 2013.
Named one of "25 women in robotics you need to know about" by Robohub.org, 2013.
Professor-Peter-Sagirow Award (for outstanding performance in the undergraduate program Engineering Cybernetics, awarded to the top two students out of 70), 2005.
Ongoing Activities
Affiliations:
Organizer of the following events:
Editor positions: